Fresh N Vibe
FRESHNCLEAN
$19.95
Regular price
Unit price
translation missing: en.general.accessibility.unit_price_separator
Buy any 2 Get 2 Free
Description
FRESHNCLEAN natural sneaker wipes are the first of its kind. Providing you with the most effortless and effective clean that your sneakers will ever receive- these wipes are a necessity for any sneaker lover.
You'll love this complete, powerful sneaker wipe, which comes in an aesthetic package of 30, providing you with the convenience of travelling anywhere with them. With our natural formula, no harm to your sneaker will occur. No discoloration. No excess residue. No odors. Our sneaker wipes will restore your sneaker to its original state and ensure they remain that way.
Use safely on leather, plastic, vinyl and rubber. For all Tie-dye sneakers please use with caution and wipe gently. We recommend a patch test before use.
We pride ourselves on the details of our products! Should you have an issue with your order we accept returns for a complete refund of your money and/or replacement. Please see return policy for further details.
SHIPPED WORLDWIDE WITHIN 24 HOURS – 100% TRACKED. Orders are dispatched directly from our warehouse, with final delivery being completed by your local Postal Services. Due to the custom nature of our hand-painted keychains, we advise shipping will take 10-15 business days! For more information regarding our shipping policy, please head here.
How to use our Buy 2 Get 2 Free deal? Just add 4 of your desired mini sneakers to the cart, and the discount will be automatically applied- 2 minis out of 4 will be free! This deal is valid for all products except clocks and carpets. If our Buy 2 Get 2 Free deal has been applied, you are not able to enter any additional discount codes. "What if I want more than 2?" Say less, add 6 pay for 3. Add 8 pay for 4, you get the point.
Ships Worldwide
Within 24 Hours
Free Return Worldwide
Orders above $50+
Customer Service
Dedicated Team
Customer Reviews
Write a Review
Ask a Question
01/07/2022
Elliot G.

United States
Great product
These cleaning wipes work well
This stuff is dope!! I use it on the white trim of my skate shoes and it keeps them looking new so much longer. Also just cleaning and similar fabric. For the convenience totally worth it
I bought these for my daughter as a stocking stuffer and she had no idea anything like this existed. She has a lot of white sneakers that are expensive and she was very happy to see how well these worked.
Dig the product and it cleans very well. The photo is before/after on my rather dirty shoe. I only used one wipe for the photo! I've used these same wipes on white leather shoes I own and worked very well and was able to get a fresh look. Even restored the white in the shoelaces. Really good product!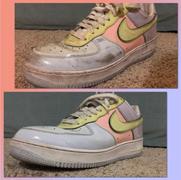 Great! I love to order from them, fast, efficient and always on point! I'm always going to buy there products, great use for cleaning sneakers and the wipes come in clutch for a quick wipe to make them fresh again. Can't go wrong with the wipes for on the go mess